15 Gardening Apps & Plant Identifiers To Plan Your Garden in 2021
Whether you're a seasoned green-fingered professional or a gardening beginner, there are a range of gardening apps, plant identifiers and digital garden planner tools that can improve your knowledge.
If you come across an unknown flower or weed and are unsure what to do with it, or need to troubleshoot why one of your shrubs isn't growing as it should, there's an app to help. If you need help to plan and design your garden, there's an expert app for that too.
So, including everything from garden planning tips to care calendars and plant identifiers, here the best gardening apps to make you a better gardener all year round, with some help from GardenBuildingsDirect.co.uk.
1. Garden Answers
One of the most useful apps for any gardener is a plant identifier, helping you become a walking encyclopaedia of all British garden plant species. Garden Answers is an easy-to-use and incredibly popular identification app that can instantly define over 20,000 plants, coming with some very useful information. Take a snap of the plant you want to identify, press 'submit' and you'll have the answer.
DOWNLOAD
Garden Answers
2. SmartPlant
The SmartPlant app can help you identify plants and includes a 'Digital Care Calendar' to reveal everything your garden, and the plants within it, need. You can personalise the app by adding the specific plants you have in your garden and the app will notify you of their requirements.
DOWNLOAD
3. Gardening Companion
The Gardening Companion app can help you track your garden's progress, care for your plants and access a wealth of gardening knowledge. It also allows you to set reminders for things you need to tick off your gardening to do list. It's certainly a useful friend for the green-fingered.
DOWNLOAD
4. Leafsnap
You know an app must be good when the Natural History Museum uses it, which is the case with Leafsnap. Helping you with identification, the gardening app – first developed by the University of Maryland, Smithsonian Institute and Columbia University – contains lovely high-resolution images of leaves, flowers, fruits, petioles, seeds and bark. As the app's name suggests, the plant species are identified by their leaves.
DOWNLOAD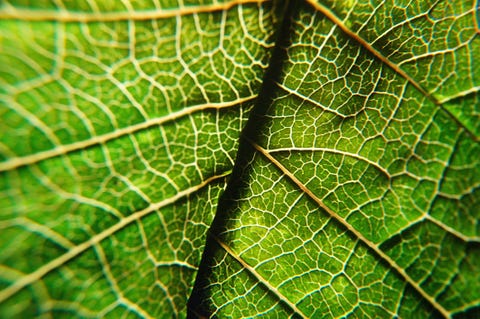 Emma Black / EyeEmGetty Images
5. My Soil
This gardening app is all about soil. It comes from the British Geological Survey and enables you to check the soil in your local area, in terms of soil type, depth, pH, soil temperature and organic matter content. This can help you work out which plants will flourish in your garden.
DOWNLOAD
6. Garden Plan Pro
Gain expert knowledge with the garden planner app, Garden Plan Pro. It will help you decide where to put a vegetable patch or a herb garden. The simple tools aid layout designing, plant arrangement, and tracking garden progress.
DOWNLOAD
7. GardenTags
Offering plant advice, inspiration and gardening tasks, the GardenTags app allows gardeners to share helpful information and tips between each other. Your plant care will be sorted with this app, which can also suggest ways to deal with weeds and pests. This is a good for a sociable gardener who like a community.
DOWNLOAD
This content is imported from Instagram. You may be able to find the same content in another format, or you may be able to find more information, at their web site.
8. Into Garden
Designing a new garden layout and need a garden planner app? Into Gardens app, created by a British garden designer, is ideal for those wanting a more sustainable way of life as it encourages you to eat what you grow. Summer fruit and vegetable patch anyone?
DOWNLOAD
9. Flower Checker
There are a few apps on this list that offer a plant identification service. But the Flower Checker app is perhaps one of the most accurate, using the expertise of real botanists, who are able to identify more than 90% of all plant species. A plus is that the app has no adverts.
DOWNLOAD
This content is imported from YouTube. You may be able to find the same content in another format, or you may be able to find more information, at their web site.
10. Plantifier
Unlike Flower Checker, Plantifier uses the masses rather than the experts to help with plant identification. All you have to do is upload a photo of the unknown plant, and other users on the app can help you work it out. The app can also assist with caring for your garden, while tracking the growth of your flowers and plants.
DOWNLOAD
11. Garden Manager: Plant Alarm
Brilliantly, the Garden Manager app allows you to set alarms so you never miss a care step when it comes to your plants. One of the main causes of plant death is down to people forgetting to feed or water them so this app is perfect for helping you keep track of your progress. You can even track a plant's measurements on a graph.
DOWNLOAD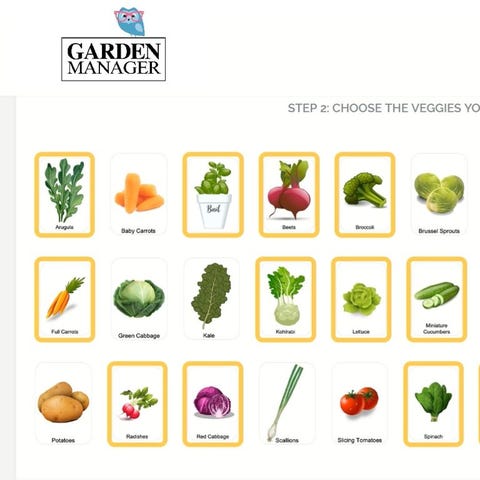 Garden Manager
12. iScape
A garden planner app from Apple, this paid-for app is great for people designing a garden from scratch. It allows you to visualise how your garden would look with different elements by taking photos and super imposing different layers. The end result is a virtual 3D garden to explore.
DOWNLOAD
13. intoGardens
This is a digital gardening magazine for tablets, created by garden designer James Alexander-Sinclair. It features garden inspiration, shopping ideas, beautiful imagery and entertaining garden reads.
MORE INFO
14. Garden Journal
This app lets you track what you've planted and when and how often you need to water, prune and care for them. Brilliantly, it also has a pest advice section to help you keep any unwanted visitors at bay. It's free but you can upgrade to a Garden Planner package which sends email reminders and allows you to draw up plans for a veg garden.
DOWNLOAD
15. iNaturalist
This app focuses more on the nature you might find in your garden and helps you to identify it. Created by the California Academy of Sciences and National Geographic, iNaturalist works like a social network, allowing you to take a photo and get instant identification of plants, birds and animals.
DOWNLOAD
Like this article? Sign up to our newsletter to get more articles like this delivered straight to your inbox.
SIGN UP
Love what you're reading? Enjoy Country Living magazine delivered straight to your door every month with Free UK delivery. Subscribe now to save on the shop price + get instant digital access to the latest issue!
SUBSCRIBE
20 gardening tools and essentials you can get delivered to your home right now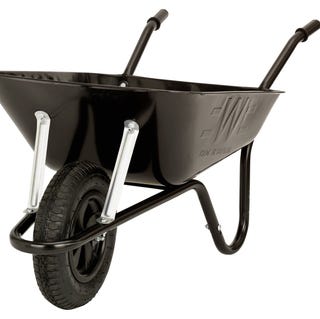 Walsall Wheelbarrows 85L Heavy Duty Builders Barrow – Black
Walsall Wheelbarrows
£55.00
Moving mulch, compost or soil to your garden beds? A wheelbarrow is an essential to save your back. One-wheeled, two-handled options are great for manoeuvrability, but if you're limited in strength you may want to opt for a dual-wheeled one.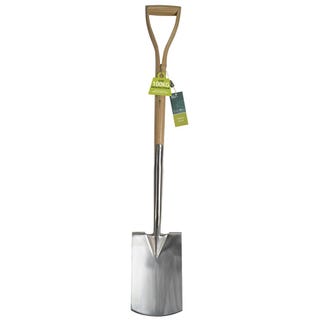 RHS Burgon and Ball stainless digging spade
A fantastic spade that's RHS-approved, this stainless steel choice is rust-resistant and won't need regular sharpening, making it easy to maintain. Long-handle spades like this are great for digging large plots and transferring soil (not to mention being easier on your back). This is also a sustainable choice with the handle made from FSC-certified ash.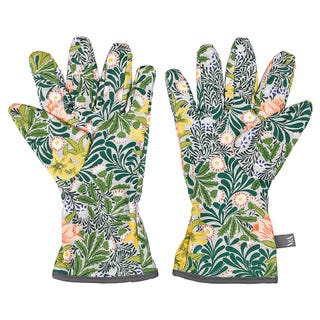 V&A William Morris Gardening Gloves
Add a splash of bold and beautiful colour to your garden activities with these stylish William Morris-print gloves. Not just for good looks, of course, they'll also protect you from thorns and brambles while you're working.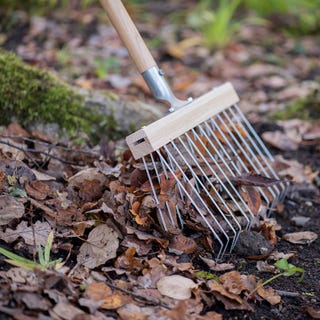 DeWit double leaf rake
Keep your garden looking spic and span and free from leaves and debris with this top-notch DeWit rake, which makes clearing up much more pleasurable.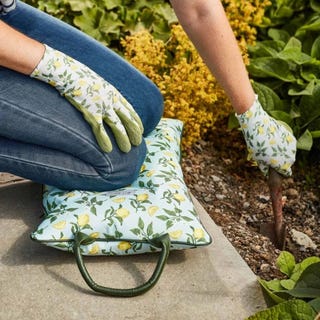 Sicilian lemon kneeler pillow
Protect your knees while getting in amongst the borders with this pretty kneeler. Or you might prefer strap-on knee pads so you don't have to keep moving it – BUY NOW, £14.99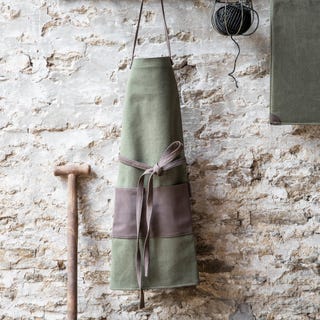 Garden Apron
Protect your clothes and get organised with a stylish gardening apron. Whether you're planting new flowerbeds, picking vegetables or potting around in the shed or greenhouse, this trusty apron will ensure clothes stay clean. What's more, all important tools, seeds and more can be stored close to hand in the front pocket.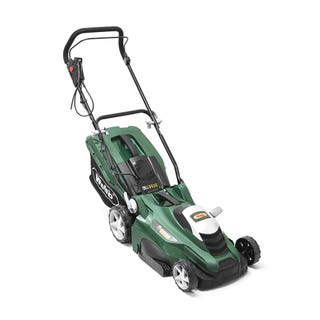 Webb electric rotary mower ER40 15″
Opt for a more eco-friendly electric lawnmower as opposed to a petrol one.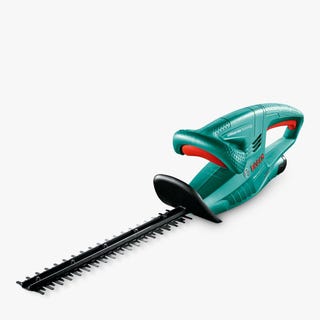 Bosch EasyHedgeCut 12-35 Cordless Hedge Cutter
Ensyure your hedges and borders looks super-smart with an easy-lift, lightweight, cable-free trimmer for quick and easy grooming.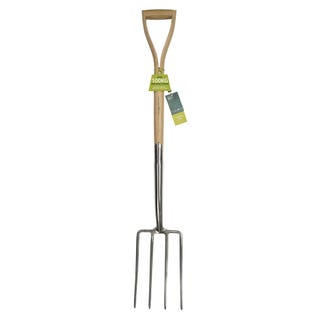 RHS Burgon and Ball stainless steel digging fork
An efficient tool for turning soil, garden forks can dig into dense soil better than a spade. This one made from rust-proof stainless steel with forged tines for extra strength, is a high-quality digging fork that's endorsed by the RHS. Need we say more?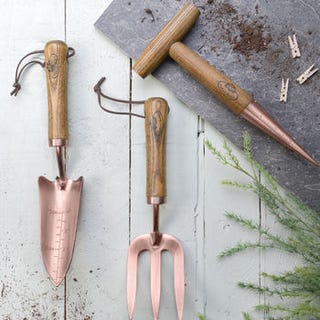 Garden Tools In Wood And Copper
The ultimates hand tool, trowels are wonderful for transplanting bedding plants and herbs, and planting containers. Hand forks, meanwhile, are perfect for taking out weeds.  Not only are these a lovely on-trend copper, the material naturally doesn't rust and repels slugs and snails.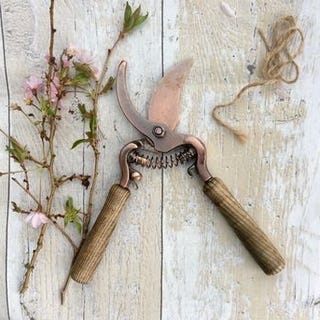 Personalised Copper Plated Garden Pruner Secateurs
Plants taking over? Pruning shears, or secateurs as they're also known, help reign in plants that are getting out of control. They're also perfect for trimming flowers, like roses. Why not match yours to your hand trowel and fork for stylish trio?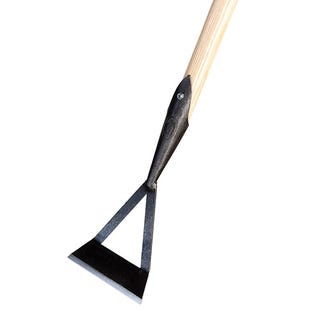 DeWit Dutch hoe
This well-crafted garden hoe will make light work of clearing weeds from your flower beds, borders and veg plots. The extra-long handle will also protect you from back strain.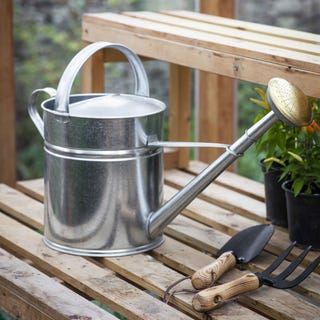 Galvanised Watering Can
All gardens need a trusty watering can to keep flowers and plants thriving.  This durable one is available in three sizes, so you can choose the one to suit your outdoor space. The 1.5L is perfect for herb pots on plant stands. The 5L for small gardens with plant pots and flowers. And the biggest, the 10L for vast rural flowerbeds and herb gardens.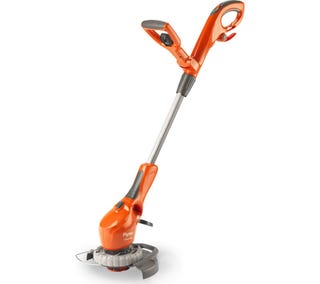 FLYMO Contour 500E Grass Trimmer
Tackle a variety of different tasks around your garden with ease with the simple press of a button. This handy trimmer can be used to edge the borders of your lawn, and a wheel is fitted to the trimmer, making it easier to follow the edges around walls and fences. There's also a shrubbing mode, making it simple to tackle difficult-to-reach areas, like under benches and bushes.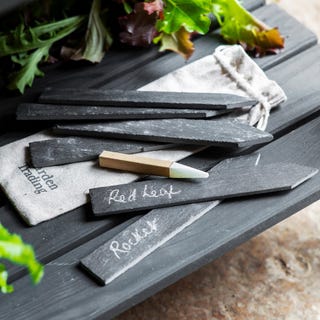 Set of 6 Plant Tags
Keep track of what you've planted with these stylish slate plant labels. The set comes complete with a square soapstone pencil, which allows you to interchange the labels with what's in season or current family favourites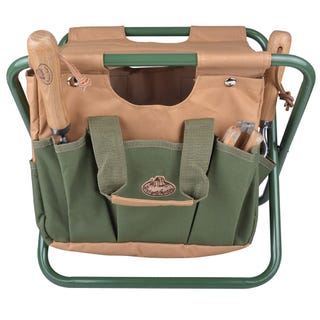 Tool stool
Keep everything together in a clever storage box that also doubles up as a foldable seat. You'll enjoy gardening so much more if you're comfortable and everything is to hand. The removable bag fastens with press studs and includes spacious side compartments for hand tools, dibbers, pens, string,  and other necessities, and a central section perfect for larger items or a spot of lunch.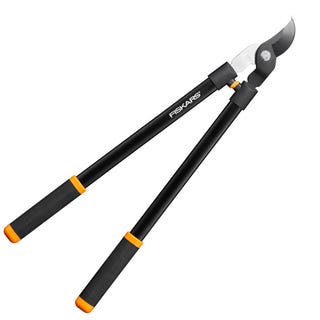 Fiskars Solid Lopper Bypass L11
Another handy cutting tool, loppers are basically long-handled pruning shears used to trim hard-to-reach areas and cut thicker branches.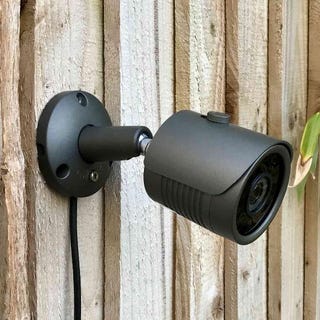 RSPB Garden wildlife camera – new
Don't miss the incredible action going on in your own garden. A good wildlife camera will capture all the exciting activity. This one from RSPB can be used to view anything from birds on a feeder, bird tables and nest box entrances, to hedgehogs and other nocturnal wildlife. It can also even be used to keep an eye on the garden or house as a security camera.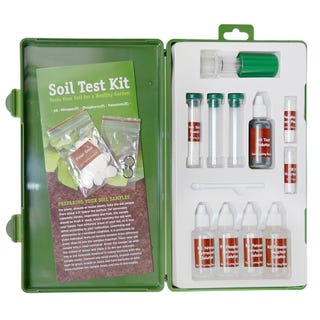 Soil test kit
Maintain an ideal growing environment with an easy-to-use soil tester kit. You can test the pH and nutrient profile of your soil, think soil acidity and levels of nitrogen, phosphorus and potash, to see if it needs extra help.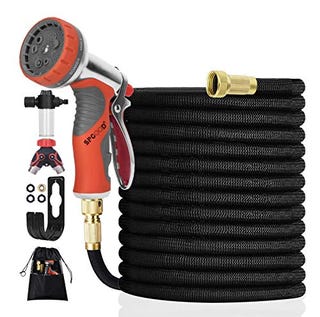 SPGOOD 50FT/15M Expanding Garden Hose Set with Splitter, Foam Water Bottle Expandable Garden Hose, 9 Futions Spray
Water is the foundation of your garden's life and it's important that your garden hose can reach and spray every area. If you buy one with an adjustable nozzle, it puts you in control of the water pressure and spray radius. You can also buy nozzles separately.
This content is created and maintained by a third party, and imported onto this page to help users provide their email addresses. You may be able to find more information about this and similar content at piano.io