Playing In The Dirt: Grow! Kids Learn While They Have Fun With Gardening
97.9 The Hill and Chapelboro.com have partnered with Orange County Master Gardeners for "Playing in the Dirt," a monthly column exploring the fertile soil of home gardening in our community and designed to provide information and inspiration for gardeners of all abilities to bloom! Check out Chapelboro each month for a new theme – from our gardens to yours!
By Sharon Billings and Kathy Bucher, Orange County Master Gardeners
Gardening is a wonderful activity for children. It arouses curiosity and promotes healthy eating. Best of all, it's fun! Most children love to dig in the dirt, water plants, and proudly pick flowers or vegetables. They get to know science and weather as well as the work of the farmers who provide us with food.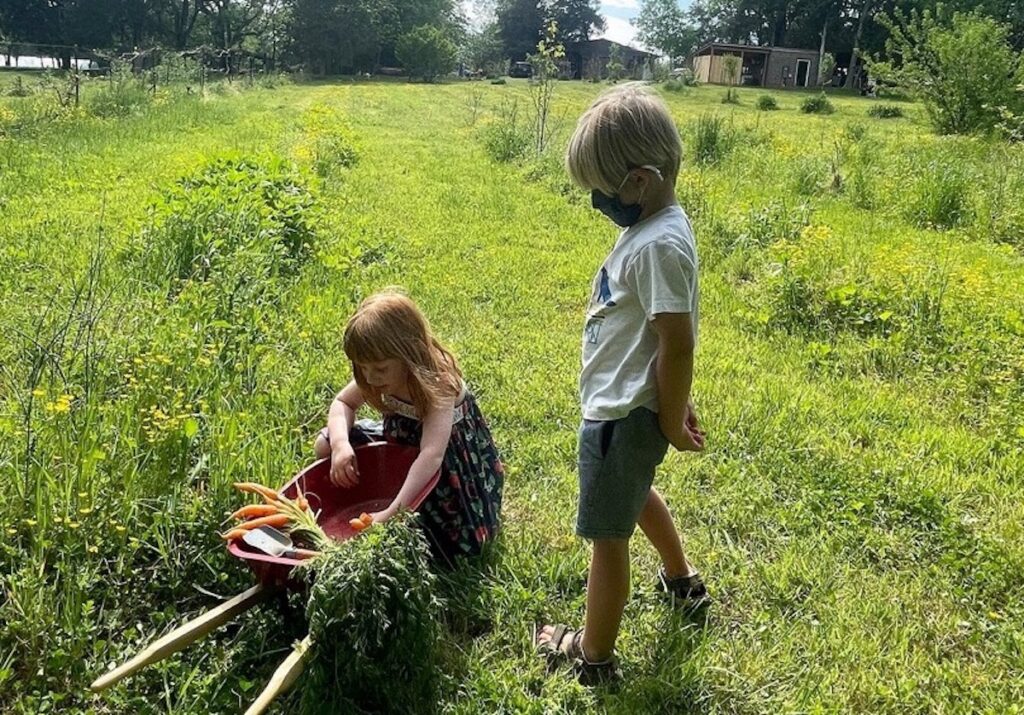 It's easy to start with a small spot in your garden that gets good sunlight. You can grow plants in containers if you don't have space for a garden. You can even sprout plants on your kitchen counter!
For tips on growing vegetables, download the Vegetable Gardening: A Beginner's Guide from NC State Extension. It explains how to improve your soil, plan for enough sun and water and plant in three seasons (spring, summer, autumn). It also describes a 4 by 4 foot planter that is easy to build and fun.
Vegetables and many flowers need up to eight hours of sunlight every day. Keep in mind that plants like tomatoes need space to grow and may need support like stakes or cages.
If you don't have space for a garden, lots of flowers and vegetables in containers will do fine. Use potting soil (not garden soil) and follow the instructions on the seed package or plant label. NC State Extension has helpful information about container horticulture as well as interesting plants for kids.
Visit a nursery or garden center to get a few packs of seeds (hardware stores and grocery stores also sell packs of seeds). You can also buy tomato seedlings or other plants that were started in small pots. Children can choose the seeds or plants – they can read labels and talk about the need for sunlight and water and how much space the plant will take up.
Vegetables that are easy to grow include sugar peas (plant in early spring), carrots, lettuce, radishes, cherry tomatoes (start as seedlings) and potatoes. Annual flowers that are easy to grow and pick include marigolds, zinnias, and snapdragons.
If you're short on space or time, try indoor gardening:
Growing lettuce in a plastic bag: Plant lettuce seeds in a one-liter plastic bag. Read about it here.
Sprout a sweet potato: All you need is a sweet potato, bowl or glass of water, and a couple of toothpicks. Read more here. (The North Carolina Sweet Potato Commission website also has educational activities for children.)
Growing plants from kitchen waste: You can use the top of a carrot, avocado, or other pieces of vegetables and fruits. Read more here.
Orange County Master Gardener's volunteers have programs to educate the public about gardening and the science of plants. The Master Gardener Youth Program Committee members are happy to visit our local schools and provide hands-on activities for teenagers to learn and enjoy gardening.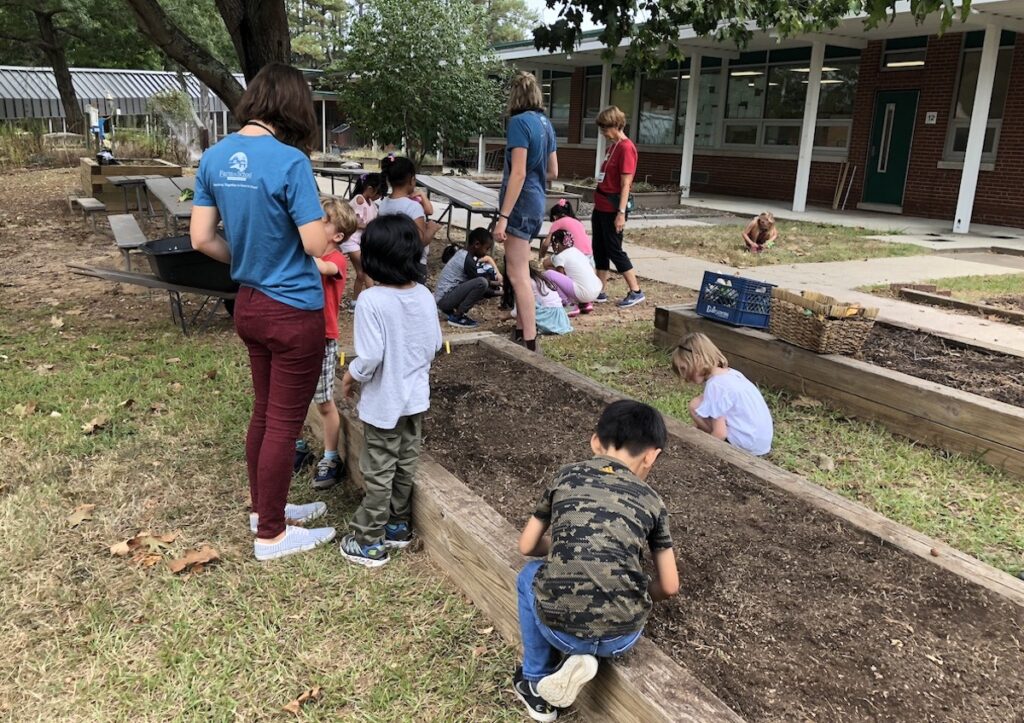 The youth program volunteers were active in schools in our area helping with horticultural activities. A gardening project has been going on for five years at Frank Porter Graham Elementary School in Chapel Hill. After class in the classroom, students plant vegetables in a well-fenced garden and later weed, water and harvest their bonus. They have grown all kinds of crops for the cold and warm seasons, along with unusual crops like rice. When gardening, students enjoy the opportunity to be outside and learn about plants. Some just love to shovel.
Another school in Chapel Hill with a beautiful student garden is Glenwood Elementary School. Your garden was initiated by a teacher. Other schools in the Chapel Hill-Carrboro and Orange Counties school systems have gardens, and all of them have space that could be used for gardens.
The Master Gardener Youth Programs Committee works with Growing Up Healthy, a program led by Maria Hitt, director of health initiatives for the Orange County Partnership for Young Children. Maria has provided practical, fun lesson plans for preschool and kindergarten children. We took advantage of classes at Master's Garden Preschool and Lil 'Treasures Daycare in Hillsborough. These programs are fun for everyone! We discuss a vegetable or flower through books and art, and we have some vegetable snacks. Then we visit the garden outside to plant or harvest, depending on the season. The kids love it and are eager to try some foods that they previously thought they didn't like.
We have also developed classes for elementary school students, with activities, books and materials. Topics include plant requirements, creating a salad garden, sunflowers, sweet potatoes and composting with worms. Some of the activities include a take away component so the rest of the family can get involved. We recently received permission from the NC Museum of Natural Sciences' Curiosity Classes programs to use the props and script for a "Green Plant" lesson for second- or third-graders.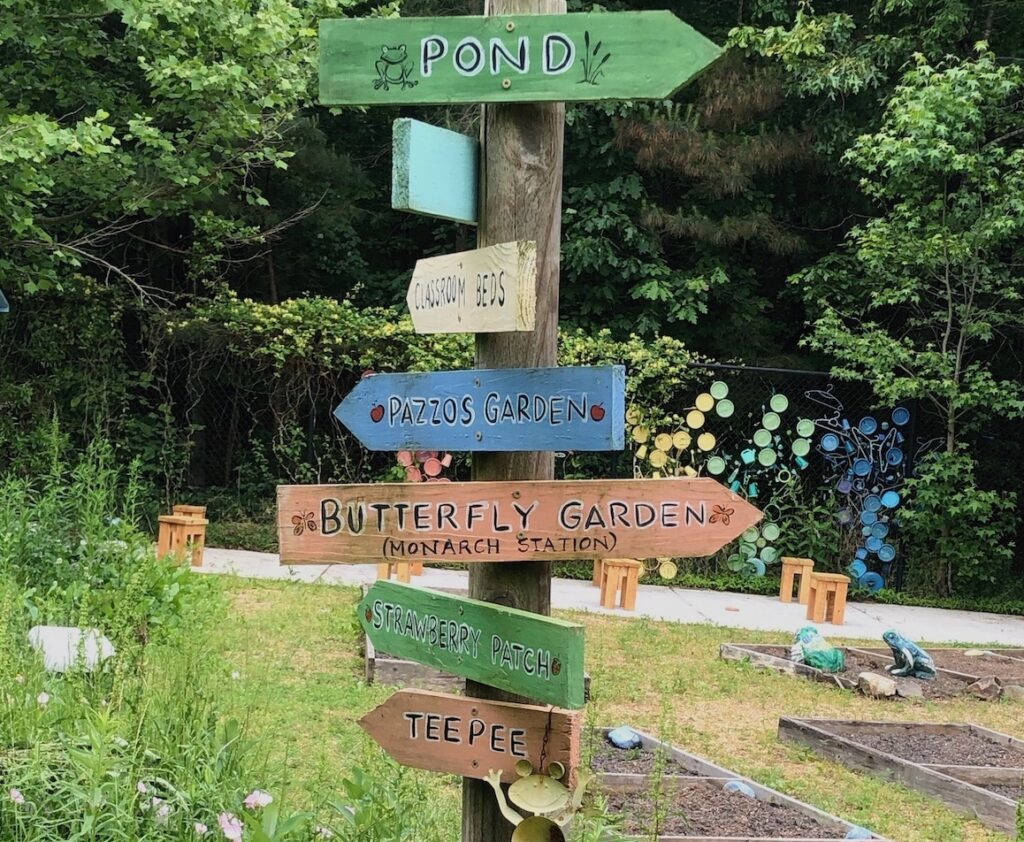 We look forward to further help with classroom teaching and outdoor planting. We encourage local teachers to reach out to our group. If you are an educator and would like Orange County Master Gardener volunteers to attend your school on one of our gardening programs, contact us at [email protected] We are happy to visit your school, help with the creation of a school garden, offer presentations in the classroom and help the students with practical learning with garden activities.
Helpful Resources to Engage Children in Gardening:
Do you have a plant or gardening question for the Orange County Master Gardeners? Send an email to [email protected] or call 919-245-2061. Follow us on Facebook (search for OCEMGV).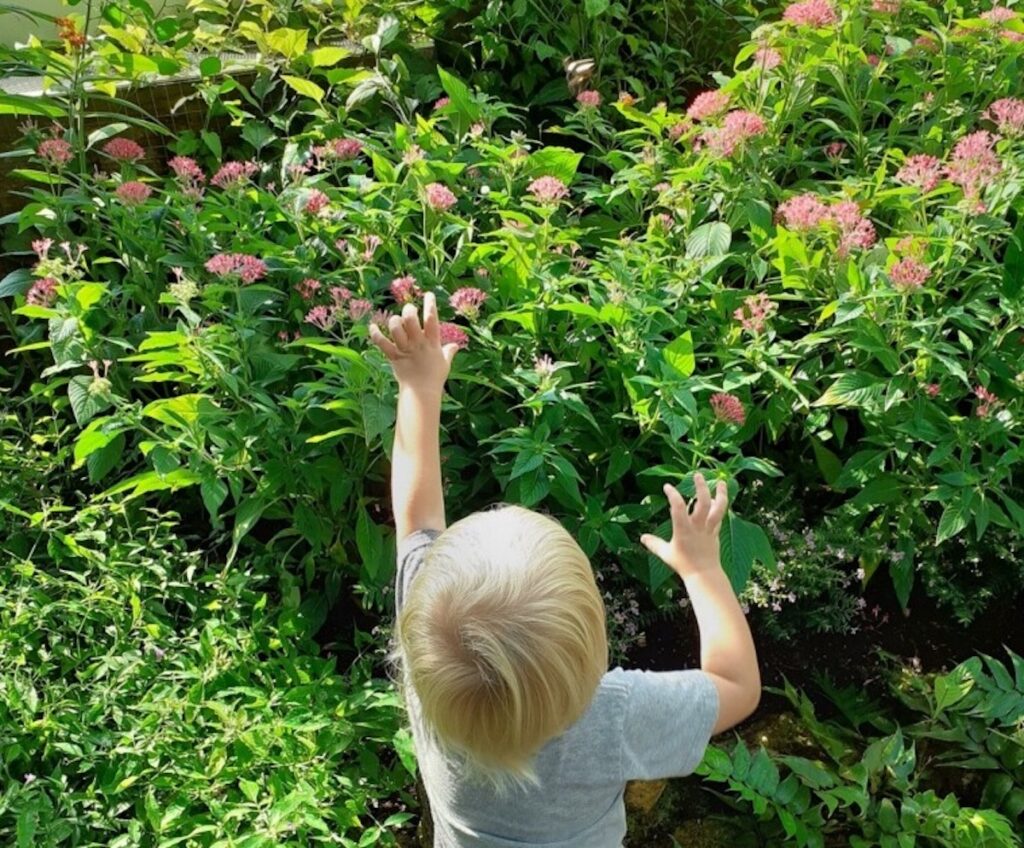 Chapelboro.com does not charge any subscription fees. You can support local journalism and our mission to serve the community. Help us today – every single dollar counts.
connected